Places on the Web


When Mark is not playing guitar with the Trio, he is blasting the bass with mack. While the two bands share some Morrison material, their treatments are distinctly different. Currently mack are on hiatus.
Dada Tribe #373
The Dada Tribe use samples and percussion to create a sound they describe as Displosable Industrial Pop. Their pieces are long, growing almost organically rather than providing a sound-bite high-intensity jolt. They are definitely on the frontier of something strange and beautiful. Mark Holsworth, one of their regular members, used to play with John's Room.


This site lists links and information about a ridiculous number of bands and musicians. The Power Trio can be found there now, along with many of your favorites, I'm sure.
John Cale
Eoin Ryan has compiled an outstanding set of pages about one of the most talented musicians of this century. John Cale's work with The Velvet Underground, as a solo artist, and as a producer, has constantly been of the highest quality. The sheer volume of information on this site is reason enough to visit it, if for some reason Cale isn't.
Melbourne Bands Page
Ernie Chow (from the Ergot Derivative) maintains a comprehensive guide to the web sites for Melbourne Bands, as well as a bulletin board for local acts to advertise their gigs, and a host of links to other Australian Music sites. Worth keeping an eye on if you are interested in the local scene.
Elsewhere
John's Room
A now extinct band; Mark, Liam, and The Duckmaster all played in the Room together before forming The Power Trio.
Jim MacDonald and Ben Chessell
This talented young duo have been playing a lot around the Melbourne acoustic scene. They skillfully blend elements of guitar blues and proto-rock, with haunting melodic and harmonic expositions on the violin and vocals to create a unique, almost gothic, sound. Well worth going out of your way to catch around town.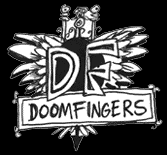 Occasional guest guitarist Cam played drums with this urban cartoon-thrash outfit, with Ryan on bass and the incomprable Matti on guitar and vocal presence. These guys were hot! They had Evil Hands! But now Cam has gone to Queensland... There are rumors of a definitive tape in production, however!
Hive Mind
For a brief time this impressive collection of musicians graced Melbourne with their presence. Mystical musical master Cam wrote most of their material, sang, and played guitar for their only two performances. Also featured were Owen and Ryan (also from the Grin Dogs), and in their last gig Dan Walker and a host of backing singers (Judy Routt and Harold Brown).
Hoopiron
The Trio played on the same bill with this talented and funky band a number of times. Sadly, we are told they have split up. Their cool site still remains as a monument to the legacy they leave behind.