BILL'S HOME PAGE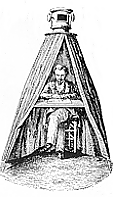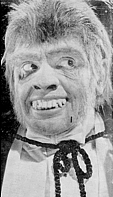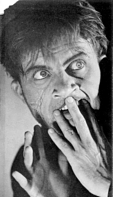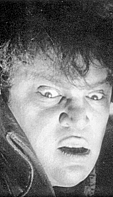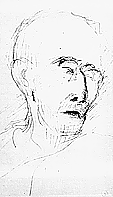 Bill Routt [aka "William D. Routt"] sometimes writes about film and popular art and stuff.
Interests
Popular Art. "Bad" art (art that is not very good and art that is bad for you). Black music (African American - jazz, r&b, Latin, Caribbean - African). Dance music (disco, techno, "ethno-beat", etc.). Comics, incl. manga. Crime, fantasy and science fiction and films. HK & Japanese popular film, including animation.

Film/Cinema. Film History/Criticism/Theory. Early Cinema. Film Culture (how films have been written and thought about). Early Australian cinema.

Writing (Theory/Thinking). Interpretation. Structuralism and post-Structuralism (Continental Theory). Deleuze et cie. Blanchot, Lecercle, Nancy, Sloterdijk. Aesthetics. James Harvey.

RPGs. Scenario writing. Playing. Systems. Computer "rpgs".

The Tombstone Canyon Scenarios (two closely-related westerns written for the It Came From The Late, Late, Late Show rpg system) .

The Arlen Entourage (two scenarios set in Hollywood and featuring a team of four extraordinary player characters, written for the Call of Cthulhu rpg system).
---
Recent Activity
(or)
SHAMELESS SELF-PROMOTION
Australian Film
'The Picture That Will Live Forever': The Story of the Kelly Gang (The Moving Image 8, 2007) with Ina Bertrand. 200 page book/monograph on this significant Australian film from 1906. My work is in Chapter 1 ('The First Long Picture in the World'), which we co-authored, and Chapter 3 ('The Kelly Gangograph: dreaming it all again'), which is a textual analysis of the remains of the film. It is available in a package with the Australian Film and Sound Archive's region-free DVD of their restoration of the film. An ad for the DVD package appears here and an embarrassingly kind review here. The book won the 2008 Best Monograph award from the Film and History Association, which is pretty gratifying.
"It's the hundredth anniversary of The Story of the Kelly Gang (1906). Should we care?"(with Ina Bertrand). -Paper for Film and History Conference, delivered on 16 November 2006, based on Chapter 1 of the preceding monograph. Plus slide show of stills. Repeated at The Australian Centre for the Moving Image, Australia Day, 26 January 2007.
"The Evening Redness in the West", The Saturday Age, 1 October 2005. -Dialogue piece on The Proposition which argues that,, in spite of appearances, it is not a bushranger movie and not "an Australian western", but an art film about violence. (It is very good too, although maybe you would not know it from this piece). The live link is to the online version, which is not laid out as well.
"Dad and Dave Come to Town (1938)". -Chapter for The Cinema of Australia and New Zealand, edited by Geoff Mayer and Ken Beattie (Wallflower Press 2007). This contribution was intended as an introduction to the movie in question and written to conform to a set of editorial guidelines common to all the books in the Wallflower Press "24 Frames" series. It was re-edited without my knowledge and now reads stiffly and contains errors not in my original. I advise not buying the book. Still and all, the essay bears a loose connection to the conference paper on bush comedy below. The text I submitted appears here.
"Always Already Out of Date: Australian Bush Comedy" -A paper about this uniquely Australian variety of rural comedy, presented at "Seriously Funny: the 2004 National Screenwriter's Conference", Saturday, 3 April, 2004. Using a swag of film clips prepared by the National Film and Sound Archive of Australia, the paper tried to isolate some of the genre's unusual traits. The handful of folks who were there asked neat questions - which you, of course, can't do.
"Red Ned". Metro 136 (June 2003) -A longish (c3000 wd) review of the Australian feature film, Ned Kelly, concentrating on the film's politics. Lots of pix and jazzy layout.
"The Kelly Films" -A contribution to a panel, "Still Riding On - The Kelly Influence", held on 7 May 2003 and organised by the State Library of Victoria in conjunction with their exhibition, "Kelly Culture". No film clips. Perhaps may be seen to provide background for the review above.
"Bush Westerns?: The Lost Genre" -A lecture-presentation about early bushranger films delivered at the Australian Centre for the Moving Image on February 3, 2003. Excerpts from Australian films featuring bushrangers made from 1906 to 1920 were shown which had been collated by me with extensive help from the National Film and Sound Archive. People who have read the piece below already know the answer to the question in the title.
"More Australian than Aristotlean: The Australian Bushranger Film, 1904-1914". Senses of Cinema 18 (December 2001). -This is a paper about early bushranger films that I originally wrote for a conference in 1996, reworked for a non-Australian readership. It is pretty sketchy, but there are two stills with it.
"Me Cobber, Caliban: Stephano's Story and Resistance to Empire in Early Australian Film", a chapter in Twin Peeks: Australian and New Zealand Films, edited by Deb Verhoeven. (Melbourne: Damned Publishing 1999) -This article is about Longford's The Sentimental Bloke (1919), C.J. Dennis, dialect. Manonni, "The Tempest" and Australian dagginess. It's not bad and I guess I want to keep it listed here because of that.
Other Early Cinema
"Ford At Fox - Part Four" Screening The Past (2013) -Final (yes, last) instalment of what has proved to be a terminable review after all. In it are discussed (at absurd length) documentaries (December 7th, This Is Korea!), When Willie Comes Marching Home and What Price Glory. There are seven sections, more than 40,000 words, and who knows how many stills and clips. The still below does not figure, but it seems to be about relief and looking again, which this instalment does a little; and which I would like to think so am I.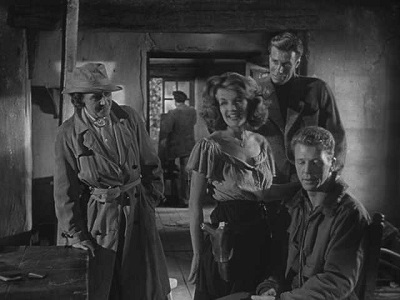 "Ford At Fox - Part Three (c)" Screening The Past 34 (2012). -Penultimate instalment of an interminable review. This one is mostly about Tobacco Road, but also contains quite a few words about the "classics" Ford made at Fox from 1939 to 1941. Those films are all thematically related - or, at least, I think so. Lots of stills, of course . . . but not the one used to make the display below, which is a pretty good illustration of me and the cinematic object.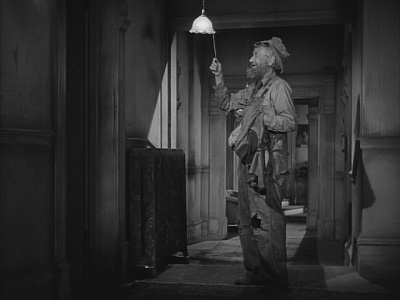 "Why Metropolis?" -An essay suggesting some reasons why Fritz Lang's Metropolis (1927) has become so popular in the past few decades. It is included in the booklet of written material accompanying the Australian DVD release of the 2010 restoration of the film: Metropolis Reconstructed & Restored. This is the first essay I have done for a DVD release (the chapters about the Kelly gang film were part of a monograph that was ponied onto the DVD release of the new restoration). The other thing that is important to me about this essay is that it is one I have wanted to write for years and years. Here is a PR graphic from the Australian release of the original film that has nothing to do with my essay, but which you gotta love.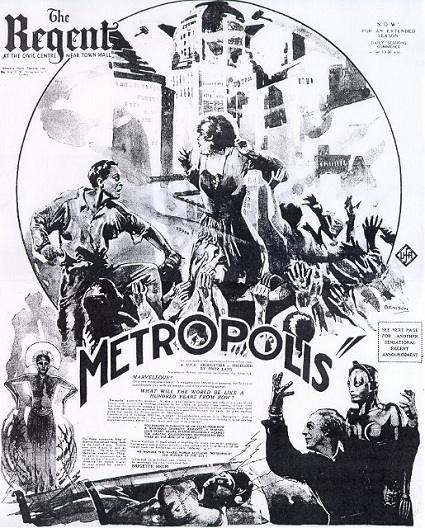 "Innuendo 1.5." LOLA No. 1 (August 2011). -A revised and expanded version of an essay about Ernst Lubitsch which was first published in 1997. Quite a few stills and some short clips - beautifully presented (no credit to me). The still below, from the newest restoration of Madame Dubarry (1919), shows one of my favourite Lubitsch moments.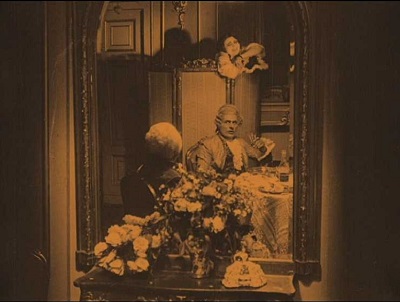 "Ford At Fox - Part Three (b)." Screening The Past 30 (June 2011). -And only one movie reviewed here too. Bertrand Tavernier is given some overdue credit and Sganarelle is explained. There are several stills which contain writing, some of which are connected with ideas of Arnold Hauser's. But who is Marcel Bluwal? This still is another one I could not use.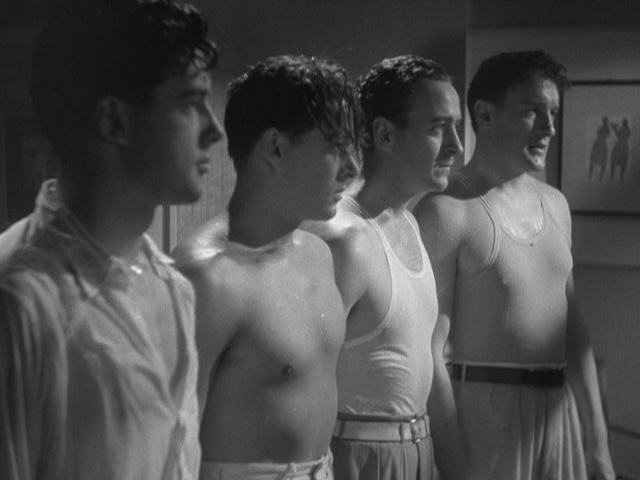 "Ford At Fox - Part Three (a)." Screening The Past 28 (August 2010). -Oh no! Only one movie this time. At least it has Shirley Temple in it (and some fan service, illustrated in the still).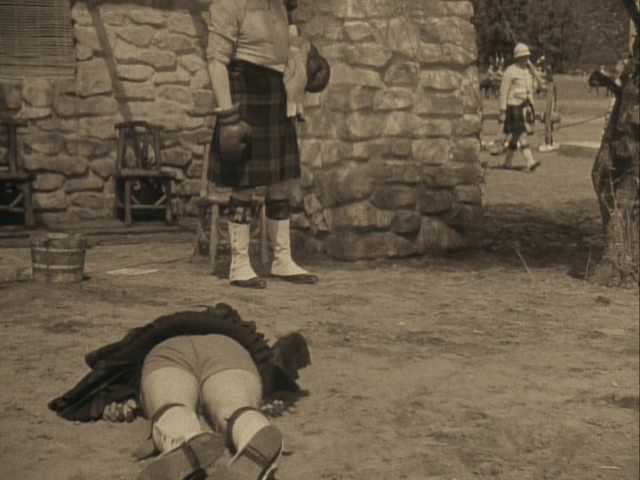 "Ford At Fox - Part Two (c)." Screening The Past 27 (April 2010) . -Uh-huh. Two Will Rogers movies and an appendix on Lincoln Perry. A still I could not use, yet too good to lose.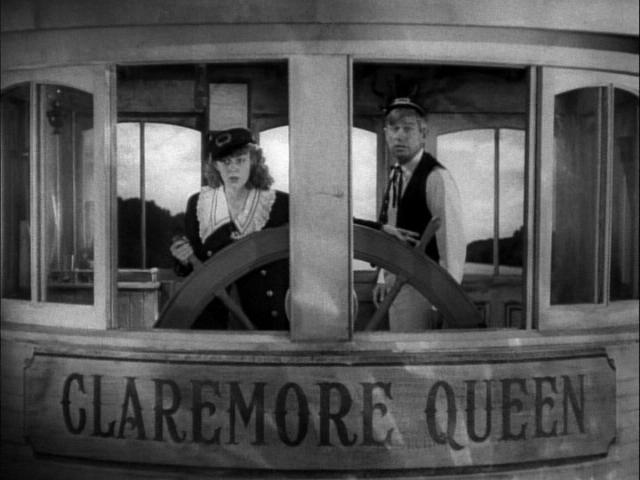 "Ford At Fox - Part Two (b)." Screening The Past 25 (September 2009). -This review just gets longer. Two more movies. Here is a still which predicts things to come.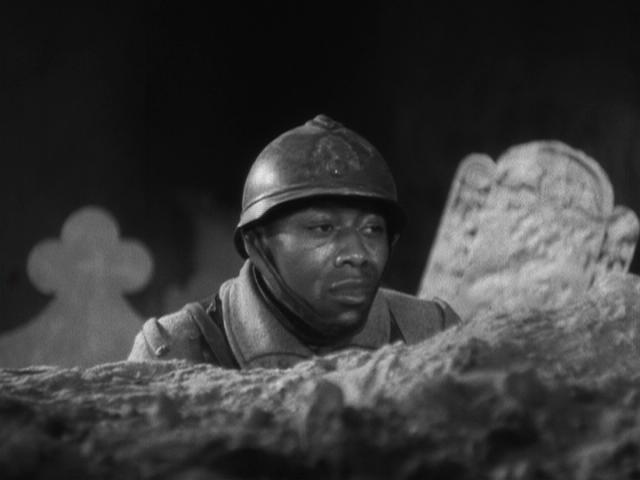 "Ford At Fox - Part Two (a)." Screening The Past 24 (April 2009). -Continues the review begun in STP 23. Unfortunately only two more films get covered in just about 15,000 words, some of which are about bad scholarship and about the representation of race. On the plus side, there are things to look at and listen to (including two more "honi soit" stills!). Below is a still about communicating.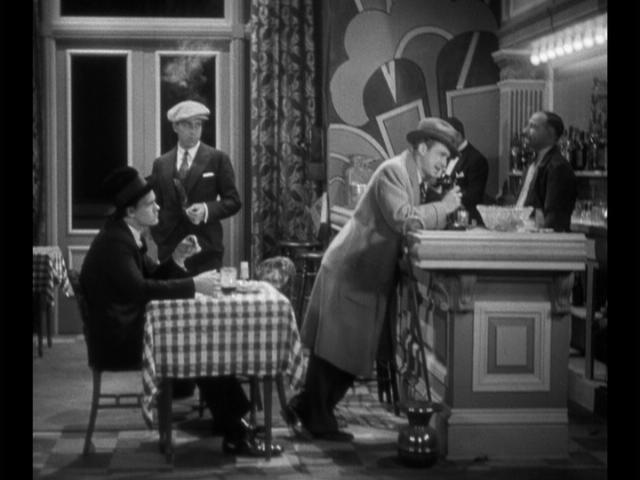 "Ford At Fox - Part One." Screening The Past 23 (December 2008). -A review of the big box set of DVDs that came out at the end of 2007. Well, here is big surprise. I have written more than 14,000 words and I have only got through the first two of fourteen Ford Fox films I wanted to discuss. On the other hand, there are a lot of stills, so it can't be all bad. Below is one that goes with practically everything in this Shameless Self-Promotion section.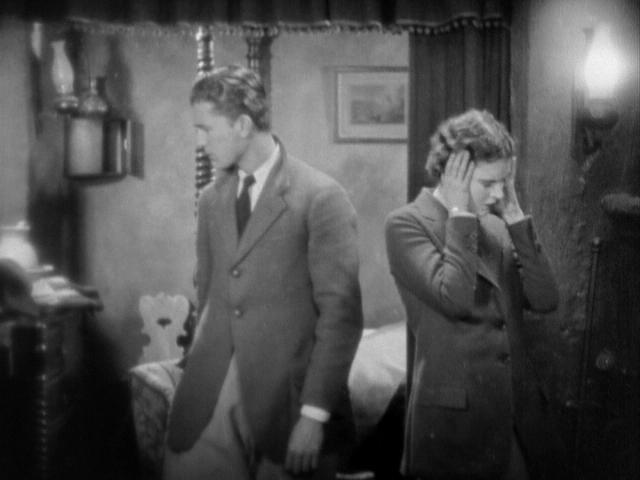 "Misprision (note version)". Screening The Past 20 (December 2006). -In 1998 "Misprision" was a 4500 word essay for a catalogue accompanying a season of films. It dealt with some of the writing about Fritz Lang's silent films. Now it has grown into 10,000+ words (retaining only about 3000 from the first version) and it covers writing about all of Lang's films, concentrating on the key work published in English and French prior to 2000.
"Hearing Silent Films", a chapter in Cinesonic: Experiencing the Soundtrack, edited by Philip Brophy (Australian Film Television and Radio School, 2001). -This piece is about just what the title says it is about. An earlier version was given as a paper for the third Cinesonic conference in June 2000. A cacophonous 1913 silent short film directed by Alice Guy and called A House Divided was shown there to illustrate some of the ideas. I have put up a few crappy stills to illustrate the text. GO TO THE STILLS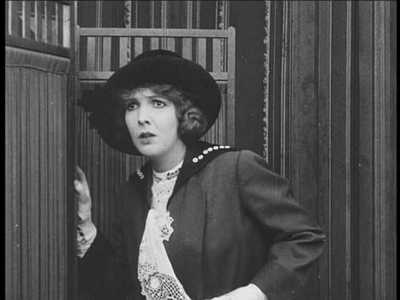 "Demolishing A Wall". Senses of Cinema 14 (June 2001). -This was originally the second part of the essay that became "The Madness of Cinema and Thinking Images" (see below), so it is about the place of the cinema. It starts out being about close-ups, however, and there is a bit about TV in it as well. It has all been much rewritten and updated, of course. And there are some visuals with it that I stole from the "Madness" site linked below. Unfortunately, it ends in poetry and the visuals take a long time to load.
"Lois Weber, or the exigency of writing". Screening The Past 12 (March 2001). -This is a long (10,000 word) essay about cinematic writing "outside language" and naivete in the work of Lois Weber, who made films in the United States from about 1908 to 1934. It is pretty pretentious (but I actually kind of like it).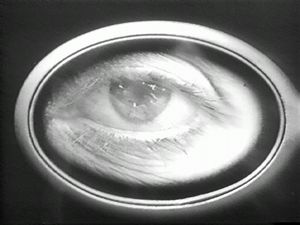 "The Madness of Cinema and Thinking Images", originally an article in Postmodern Culture 8.2. -Part of a longer work on place in the cinema, the second part of which has now appeared under the title "Demolishing a Wall" (see above), this paper deals with the initial experience of displacement and with some ideas of Vachel Lindsay, Gilles Deleuze and Charles Saunders Peirce. It has been supplemented with several animated gif files, which you may find entertaining. The version currently linked is "my copy" since Postmodern Culture told me that it doesn't archive visuals (and consequently would not archive the piece at all). The text has been slightly revised, and this version contains all the animations in working order, slightly larger than the one published. WAIT FOR IT TO LOAD.
Popular Art
"Anime Listening Drawing". Lola No. 5 (November 2014). -The published version of the paper for a panel with Phil Brophy about anime and world cinema for the World Cinema Now conference in September 2011 has oodles of stills and stuff and is actually MUCH better for that because now at last the whole thing is about the serious play of anime. I have even found a place for the still below, which is decorated with a subtitle there, but not here.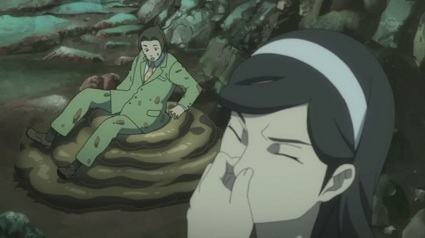 "The Ritual Model of Form". Screening The Past 28 (August 2010). -This is a chapter of my doctoral thesis, written years and years ago, after we moved to Australia. It is my favourite chapter and it is included in this particular issue of STP because I was asked to nominate a representative sample of my work from the first few years I was in Australia. (See "We Might Leave It There" below).
"Earthquake". Senses of Cinema 21 (July 2002).-A revised version of a paper I gave at at conference many years ago which tried to use ideas from Deleuze and Guattari to approach the forms of popular art - and specifically a r&b tenor sax solo by Joe Houston. This version of "Earthquake" used to contain the beginnings of a structural analysis of the record (with sound clips!), but that seems to have disappeared. Still, there are some other, more peculiar, sound files included - all originally put together by Liam and Judy.
[Review of Donald Phelps' book, Reading the Funnies: Essays on Comic Strips], Senses of Cinema 19 (March-April 2002) -A short review of Phelps' collection of great essays. The review is not good enough: it suffers from some disturbing lapses of cadence and too many adversative conjunctive device. There are some pretty good illustrations, 'though.
"Static: Still Noise", chapter in an anthology called Value Added Goods, edited by Stuart Koop (Melbourne: Centre for Contemporary Photography, 2002). -This is a shortened version of the lecture/presentation I gave at the Centre for Contemporary Photography on 26 May 1999 under the title "Static". It is about Milestone Comics' superhero, "Static" and different senses of the word "static". The lecture featured digital media riffs and illustrations produced by Darcsyde, but the chapter has only some still pictures.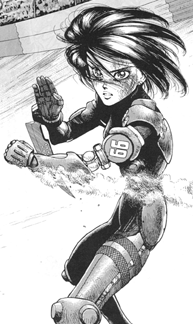 [Review of Jeffrey A. Brown's book, Black Superheroes, Milestone Comics and Their Fans], Screening the Past 13 (December 2001). -A pretty damn long review, which is also about two or three things that I know about comics. There are a couple of typos and some heading problems that I swear are not my fault.
"Bad for Good". Intensities 2 (November 2001) -An essay on the films of Edward D, Wood, Jr. and the writing around those films, tentatively using some ideas of J.-J. Lecercle's. Some of it is pretty funny. Other parts are serious. I hope you can tell the difference.
"De Anime". A chapter for The Illusion of Life 2 , edited by Alan Cholodenko (Power Publications, 2007) -Deals with Battle Angel Alita as manga and OAV, but is mainly about soul, which is one way of thinking about animation. There are reviews of the book which also mention my essay here and here. Alita reappeared in Last Orders, a graphic novel series published by Viz comics in English. You want to read everything by Yukito Kishiro anyway, so get all the volumes.
Other stuff
"In Confidence: Sam Rohdie". Screening The Past 39. -A memoir/tribute/act of mourning for Sam Rohdie. I was considering not listing it here on the grounds that it was nobody's business but those with some connection to Sam, who might well have read it already. But really, shamefully, what I wrote was much more about me, even about what I have been trying to write for the past five or so years, than it was about him. There is much more truth about Sam in the photograph of him by Margaret Lam which heads my piece than in my words. [A shortened version of this piece appears on the Film Studies For Free web page "The Passions of Sam Rohdie"]
"'We Might Leave It There'". Screening The Past 28 (August 2010). -An interview with me! (Heavily edited so that I can appear to have made some sense.) Boy, is it ever long! Boy, is it ever self-involved!
"Framed 2". Another presentation (see "Framed" below), this time at SIAL, 8 February 2008. -This talk did some of the things I wasn't able to do in "Framed" (below) - like showing a long bit of film and making some comments on the clip. In addition there was a chance to talk about Japanese cinema and architecture with people who know more about that topic than I do. Will I finish it some day? Keep watching this space.
"Tenth Memoire: Screening the Past Askew ". Screening The Past 22 (December 2007). -Some desultory, rather crabby, remarks about a journal with which I have been involved, one way or another, since its inception. The journal has turned out to be a pretty good one, no thanks to me.
Framed. Cine-architecture: glass houses and castles of owls (2017). A book? Piece? Derived originally from the "Framed" presentation for the Royal Australian Institute of Architects at Loop in Melbourne, 15 August 2007. -This was supposed to be about cinema and architecture. I wrote some (new) stuff about Eisenstein's "Glass House" film project and about Shinoda's film, Owls' Castle, and my idea was to have a lot of visual aids so no one would pay attention to what I said. I flatter myself that it all went according to plan. Now maybe it is almost finished.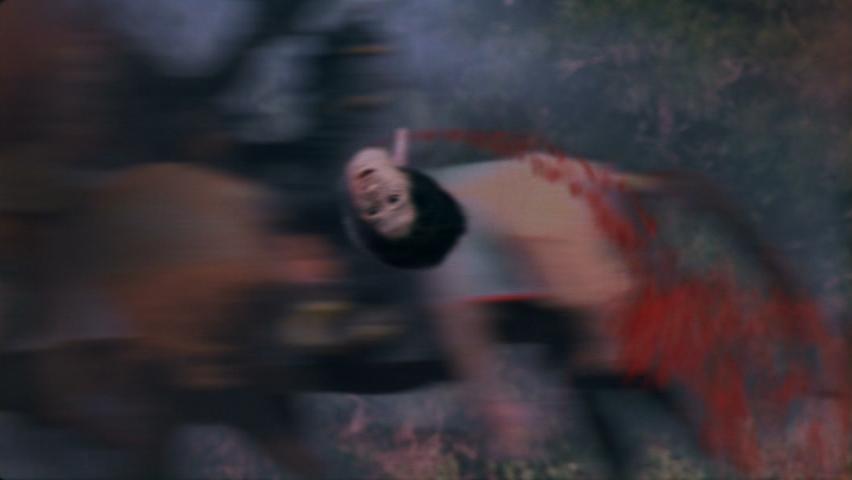 "The Film of Memory" . Screening The Past 19 (March 2006) -Another long, tedious piece, many parts of which are more than a quarter of a century old. It is about Frances Yates' The Art of Memory and history and popular film (and, indirectly I guess, 'production' in the quasi-Marxian-Screen sense of the term). All teddibly, teddibly abstract and full of itself.
[Translation]. "The Green Garbage Bags of Gilles Deleuze". Rouge 6 (May 2005) -A polemical essay by Luc Moullet about Deleuze's Cinema books. I tried to render Moullet's casual style into English, with mixed results.
"Poubelle, Ma Belle". Rouge 6 (May 2005) -An essay on Moullet's Deleuze essay (see above). My stated aim was to be simple and clear. So I missed. So what?
[Contribution]. Rouge 5: The Image Issue. I ought to have said that the image I chose is also Diane's favourite.
"For Criticism (Again)". Senses of Cinema 32 (July 2004). -This is a(nother) long, long book review (over 11,000 words). The book in question is James Harvey's magnificent Movie Love in the Fifties (Knopf, 2001), one of the best books on Hollywood movies I have ever read. I tried to do the review in a chatty style, and I couldn't help stuffing it with quotes from Harvey. Even if you don't read the review, you owe it to yourself to buy the book.
"The Terrorist and The Collaborator" MIA (Media International Australia) No. 109 (November 2003) -Yet another piece on politics (sort of), this time a collaboration between me and Tim Groves. It is about figures of terror, but I am afraid that the layout, which we approved, makes it a bit more confusing than originally intended. There are a number of interesting articles in this themed issue, 'The New Others: Media and Society Post-September 11', edited by Liz Jacka and Lelia Green.
"Who Dances When Terror Strikes?". Postcolonial Studies 6.1 (April 2003) -A somewhat shortened version of this essay, appearing alongside some really good pieces by Jean-Luc Nancy (translated grittily by Amanda MacDonald), Ramchandra Gandhit and Christine Battersby. This piece is political as well, and in its current form, a little lighter than I intended it to be.
"Left Still Dancing". Cultural Studies Review [formerly the UTS Review] Vol. 8 No 1 (May 2002) -This was originally a paper for the "What's Left of Theory?" conference. It has been lengthened for publication (which, I am happy to say, makes it harder to follow). It seems to be about the sense of left and is probably not of much interest since it is not real clear either. It's what I call political. There's quite a lot of good stuff in the rest of the issue in case you don't like mine.
Corum (Darcsyde Productions 2001) -Role-playing supplement based in Michael Moorcook's Corum novels by Geoff Gillan. I did some editing and some writing for this. Published, June 2001 and (maybe) still available in specialist game stores.
Archive
Watch that title up there. One day it might be a link to a page of archived stuff. (Oh boy, can't wait, huh?)
---
Last updated March 2017.